You're looking for the best soccer ball, right!? You're in luck! We've been reviewing them for 8 years now!
Unlike those found on big media sites, this article is actually updated every month and has everything you need:
Let's kick off already!!
Best Soccer Balls Size [September 2023]
Disclaimer
In order to maintain this website, we are linking out to Amazon / other stores and may earn a small commission, at no extra cost to you, if you complete a purchase.
Best Premium Soccer Ball Size 5: adidas Al Rihla Pro
The adidas Al Rihla Pro is the best soccer ball on the market right now. The official football ball of the FIFA World Cup Qatar is probably the best match ball that the German sporting goods brand has created in the last few years.
Qatar's flag's small triangles and the sails of this seafaring country's dhow boats inspired its design and panel shape. Its colors evoke emotions and represent all the nations participating in this Winter's major tournament.
The Al Rihla Pro — whose name is "journey" or "travelogue" in Arabic — is a consistent, solid, reliable high-tech premium soccer ball.
This FIFA Quality Pro-certified match ball comes with a new high-grade Butyl bladder and a Rhombus carcass for a better rebound, consistency, feel, and performance.
Its water-based polyurethane casing (called Speedsheel) suffered the major upgrade. The 20 diamond-shaped thermally bonded panels feature a dimple and groove micro texturing that improves the ball's aerodynamics and flight stability.
This Golf-ball-like surface makes the ball go faster and incredibly more predictable.
The Al Rihla is soft and elegant to the touch but still responsive and super fast. Its micro texturing surface makes it grippy and reliable. The way it flies is much more accurate. And, regardless of all the technology, it still feels like a real football should feel.
adidas Al Rihla Pro
Customers are saying: "it's the best soccer ball ever made". This adidas match ball is super high-tech with all its Golf-ball-like dimples and grooves. And, oh boy!, the Al Rihla Pro football sure is gorgeous.
There's a different version of this ball in orange for the Winter months. You can check it out here.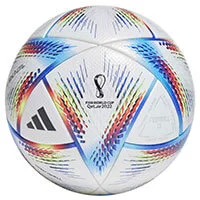 If you click these links and complete a purchase, we earn a commission at no extra cost to you.
Best Training Soccer Ball: adidas MLS Club Soccer Ball
The adidas MLS Club Soccer Ball is a replica of the official ball for the 2021 Major League Soccer season, the Nativo 21.
Its beautiful decoration mixes the U.S. stars and stripes with the Canadian maple leaf. A cool representation of the two nations competing in the MLS.
It features a 100% TPU, machine-stitched cover with a textured surface and butyl bladder for best air retention and more efficient pressure maintenance. All of this to give it a better control and a softer touch.
adidas MLS Club Soccer Ball 2023
If you want to take your soccer training to a whole new level, polish and improve your skills, then the adidas MLS Club Soccer Ball is the ideal ball for you. It's good and cheap, what else do you need, right?!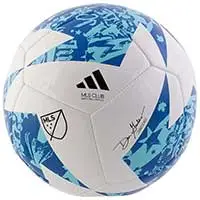 If you click these links and complete a purchase, we earn a commission at no extra cost to you.
Best Ball for the Money: Chaos Aztec Soccer Ball
The Aztec is so much more than just an impressive-looking soccer ball as it offers similar playability, reliability and performance as the top premium options for outdoor grass and (outdoor / indoor) turf for about a third of the price.
Its 32 hand-stitched 1.5 mm dimpled polyurethane panels offer great reliability, optimum flight stability and controllability. Inside, you'll find 4 layers of polyester linings for extended structure preservation and better bounce alongside a butyl bladder for great air retention and feel.
Read my full Aztec review.
Chaos Aztec
With all these amazing specs, outstanding quality and affordable price, this match ball is definitely a winner in my book. Plus, the Texan company that makes it — Chaos Soccer Gear — offers a two-year warranty for shape and size.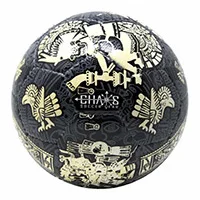 If you click these links and complete a purchase, we earn a commission at no extra cost to you.
Best Youth (Size 4) Soccer Ball: Select Numero 10
The Select Numero 10 is one of our readers' favorites. That should come as no surprise as it is approved by FIFA and an all-around great ball, one that is used frequently in high schools matches doing a great job at keeping its quality materials in good condition.
Despite being very good for practice, too, it just isn't the ideal ball for use on the pavement or up against walls repeatedly, especially if they are brick walls.
With a nice looking cover (and several different colors available), it sports a latex bladder which may make it leak more air than other balls, that's true, but it also gives it a premium feel that every player will enjoy — I'm totally fine with that, if you ask me! It might be a little pricey, for sure, but you'd be paying a fair price for its quality, too.
Select Numero 10
FIFA approved and great looking, the Select Numero 10 is widely used in high-school matches due to its high-quality materials and optimum performance.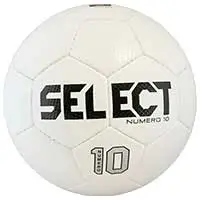 If you click these links and complete a purchase, we earn a commission at no extra cost to you.
Best Giftable Soccer Ball: Wilson NCAA Copia II Replica
Featuring a composite leather cover lined with special foam and carcass winding, the Wilson NCAA Copia II Replica was built to last, keep its shape and have a soft touch. Inside, it comes with a performance butyl bladder that gives it a balanced shape, a consistent rebound and a great air retention capability.
Here are some the things that customers are saying about this Wilson ball:
«It's definitely a professional-grade ball.» «We have had it now for 5 months and it has held up great!» «The cover on this ball is soft and feels great kicking it.» «Good bounce off the foot.» «I definitely recommend this ball for your soccer lovers!»
Wilson NCAA Copia II Replica
With an affordable price and several sizes available, this is a great quality ball to offer as a gift!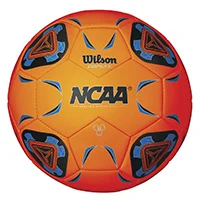 If you click these links and complete a purchase, we earn a commission at no extra cost to you.
World Cup Qatar: Official Match Ball F.A.Q.
What Is the Name of the Official Ball for the FIFA World Cup?
The Adidas Al Rihla was the official match ball used in the FIFA World Cup Qatar 2022 — a size 5 soccer ball of premium quality. The Al-Rihla is currently considered the best soccer ball on the market.
What Soccer Ball Was Used in the FIFA World Cup Finals?
Al Hilm was the official match ball of the FIFA World Cup Qatar 2022 finals.
This Adidas premium ball was used in the:
Semi-finals: Argentina vs Croatia / France vs Morroco
Playoff for third place: Croatia vs Morroco
Final: Argentina vs France
Meaning "the dream" in Arabic, the Al Hilm replaced the Al Rihla ball for the finals of the greatest global sporting event.
How Much Does a World Cup Ball Cost?
A World Cup costs around $150 or €150, but this amount usually decreases as new models are unveilled. You can get the Adidas Al-Rihla, the official match ball used in the FIFA World Cup Qatar, here.
What Size Are World Cup Balls?
World Cup soccer balls are of size 5. Size 5 is the only size used in professional soccer. Size 4 balls are used in youth soccer. You can learn more about ball sizes here.
Why Are All World Cup Balls Adidas?
Adidas is the number 1 soccer ball brand and the global leader in soccer. It is an official partner and ball supplier of FIFA and the most notorious soccer tournaments worldwide as the FIFA World Cups, UEFA Euro Championships, UEFA Champions League, and several of the best soccer leagues.
Are FIFA Quality Balls Good?
Balls featuring the FIFA Quality Pro stamp are the best footballs you can find. Only premium balls get this award. Only balls that pass the most rigorous tests (build, design, performance, and response) at a neutral ball testing laboratory earn this quality badge.
Soccer Ball 101
Type of Use
There are basically three different types of use in soccer and for each there is a specific kind of ball.
Premium or professional balls are the highest quality and most expensive soccer balls you can get.
They are geared toward — and built specifically for — international tournaments (like the FIFA World Cup or the CONCACAF Gold Cup) and international and domestic professional club competitions (like the Champions League and the MLS or the Premier League).
Match balls are high performance balls (for all types of playing grounds and geared toward all age groups and standards of play) and the second most expensive soccer balls there are.
They are built for use in soccer matches (like high school or college team ones) with high quality materials that assure their reliability and top performance.
While conforming to all ball regulations in terms of weight, size and shape, match balls usually come with some type of approval stamp on them, such as "FIFA Approved", "FIFA Inspected" or "NFHS".
Training balls are highly durable balls (for every playing surface, age group and skill level) and the least expensive of the three main types of soccer balls.
These tough balls are built for use in training or recreational sessions with specific materials to withstand extended periods of use and rough grounds like clay, asphalt or concrete.
In their construction, lower quality components such as PVC are used for the casing — many have molded panels, instead of stitched ones — and they normally come with four or fewer lining layers.
Size
For each age group there's a different ball size. That happens mainly for two reasons: to prevent injuries and to allow a proper skill development. Depending on your age, or your team's, you will need a ball that suits your needs.
Size 5 balls are the most often used. FIFA mandates that this size be used by those that are 11 years old and up.
Size 4 balls, which are simply a little bit smaller, are aimed to be used by individuals between 8 and 11 years old.
Size 3 balls, which are even smaller, are used from the time players begin playing until they reach 8 years old.
RELATED: Check out our article on soccer ball sizes article to learn more about the matter.
Material & Construction
Bladder
The bladder — the innermost chamber that's pumped up with air to keep the ball inflated — is usually made from one of two types of rubber: butyl or latex.
Butyl bladders are cheaper, have a greater ability to keep their shape and are more efficient at retaining air for longer periods of time.
Their downside is that they might not provide an optimum touch and responsiveness, but the focus here is durability, to be able to withstand repetitive use on a daily basis. That's why training balls are commonly equipped with this type of bladders.
Latex bladders are more expensive, offering the best bounce, feel, touch and responsiveness, although at the sake of poorer air retention capability. They're used in match and premium soccer balls.
Lining
Lining is the element of a soccer ball that is placed in between its bladder and its casing. It's responsible for the ball's shape and structure and, along with the casing, plays an important role as far as controllability is concerned.
The higher number of lining layers a ball has the higher its quality will be.
Cover
The cover or casing is the outermost part of a football. It does the crucial job of protecting the inner bladder while providing the best possible feel and assuring durability.
Soccer ball covers are typically made out of PVC (Polyvinyl Chloride) or PU (Polyurethane).
PVC is the least expensive and the most resistant and durable of the two. It's used in the making of the cover of soccer balls, street soccer balls, indoor soccer balls and futsal balls. This kind of balls is usually harder than their PU counterparts.
Since it's more affordable and lasts longer, this synthetic resin is also commonly used for scuff-resistant training balls. Not surprisingly, that's what the majority of training ball covers is built with.
PU
is a more costly material. It's used in premium match ball and official match ball covers.
This sort of covering means two things: 1) PU balls are softer, nicer to control and they offer a better responsiveness when touched or kicked, and 2) they don't stand up quite as well to a beating like the PVC-based ones do.
Nevertheless, a glossy coating can be used to reduce scuffing and water absorption on softer PU balls.
Rubber or plastic covered balls, on the cheapest side of things, might better stand the test of time on rough surfaces, but they are harder to play with due to their worse responsiveness and feel.
Panels
The panels are the several segments that compose a ball's cover. The total amount of these segments, the way they are constructed and bonded together affect a football's flight.
Fewer panels represent a lower amount of seams, allowing for soccer balls to become closer to perfect spheres, decreasing their water uptake, making then faster and allowing them to curve more and better.
More panels help increase controllability which might be more useful for training or practice purposes.
Top-10 Best Soccer Ball Brands
Knowing which soccer ball brand is the best often reveals itself as an important piece of information, particularly when you're picking out a ball that you want to be certain will be worth its investment.
What follows is our list of the best soccer ball brands (alongside with some information to explain why).
#1. Adidas
Adidas, the largest sportswear and sports gear manufacturer in Europe, was founded in Herzogenaurach, Germany in 1949 by the inventor, entrepreneur and cobbler Adolf "Adi" Dassler.
In 1963, Adidas unveiled the Santiago ball as a tribute to the FIFA World Cup held in Chile the year before. Seven years later, they developed a specially designed ball for the 1970 Mexico World Cup named the Adidas Telstar.
This partnership with FIFA was so successful that the German brand won the contract to manufacture premium balls for all for FIFA World Cup tournaments thereafter.
Adidas also produces the official match ball for Europe's premier club competition — the UEFA Champions League — and has been the Olympic Games' ball supplier since the 1984 Los Angeles Summer Olympics whose match ball was the Tango Sevilla.
With all those distinct customers and Adidas' superior ball quality, ever-increasing technology and improvements — with several of the best balls year after year — the company that was started in the founder's mother's wash room rightfully deserves the number one spot on our best soccer ball brands list.
#2. Nike
Having been founded in 1964 (as Blue Ribbon Sports and rebranded in 1971) by Phil Knight and Bill Bowerman, Nike is the largest supplier of sportswear in the world and a major manufacturer of sports equipment.
The American brand sponsors several club and national teams worldwide and is the official match ball supplier of several of the world's top soccer leagues such as the English Premier League (since the 2000-01 season) and the Italian Serie A.
#3. Molten
Founded in 1958, Molten is the world's largest ball and sports equipment manufacturer. The Japanese company manufactures balls for a handful of team sports — including association football, naturally — being the official basketball manufacturer for all FIBA competitions globally and all the Olympic Games editions for more than 30 years.
In regards to the beautiful game, their first soccer ball was approved as an "official ball" by FIFA in 1973. In 1991, they became the official match ball supplier of the Japan Professional Football League (J-League) after seeing their first football get an "Inspected Ball" approval by the Japan Football Association nine years before.
Decades later, Molten offered their technology to the Teamgeist project working together with Adidas to design the official match ball for the 2006 FIFA World Cup held in Germany.
In 2017, the Japanese brand signed a contract with UEFA to become the official match ball supplier of the UEFA Europa League club competition — replacing Adidas — from 2018 to 2020.
#4. PUMA
PUMA — another German sportswear and sports equipment brand — was founded in 1948, one year before Adidas, by Rudolf Dassler, Adidas' founder older brother.
The rivalry between the Dassler brothers became so fierce that it helped push both brands to their limits and enabled them to produce increasingly better products. PUMAR'S high-quality soccer cleats and balls are the best examples of the positive effects of this dispute.
To illustrate that, after a 23-year partnership with Nike, LaLiga has signed an agreement with PUMA to have them manufacture the official match ball of the Spanish domestic league for the 2019-20 season.
#5. Select
Select, a company from Denmark, is one of the world's leading ball manufacturers. It was founded in 1947 by Eigil Nielsen, a former goalkeeper who played for the Danish national team. Select was the first ball brand to make soccer balls with no lacing and responsible for many innovations that followed.
In the early 1970s, the Danish entrepreneur and his brand introduced the first ever 32-panel soccer ball (widely known as the Buckminster Ball), consisting of 20 white hexagons and 12 black pentagons. This design rapidly became very popular and a soccer standard. In 1974, Select decided to move away from cow leather, by coming up with the first hand-sewn synthetic leather ball.
The German Bundesliga and the Portuguese Liga Portugal, among other European domestic leagues, use Select as their official match ball supplier. With all these amazing historical events and facts as their calling card, you can expect superior quality if you opt for a Select soccer ball.
#6. Voit
Voit was founded in 1922 by William J. Voit, a German American entrepreneur. This sporting goods company introduced the first fully-molded, all-rubber inflatable ball near the end of the 1920s. During the same period, they also developed and patented the first needle-type air retention valves.
In the year of 1931, Voit unveiled the first all-rubber athletic balls. This innovation included vulcanization, a process which permitted a material to be fixed onto a separate rubber bladder.
Just a few years later, they invented the process of icosahedron winding making it possible for balls to be machine-wound with nylon threads over the bladder. Such a breakthrough added greater consistency and strength to the ball's shape and enabled mass production by a machine process.
The company has been, for many years now, the Mexican Liga MX's official match ball partner. Together with the company's innovations and patents (that took things to a whole new level), their list of achievements and partners make it, without a doubt, one of the best soccer ball brands around.
#7. Mitre
Mitre is the oldest sportswear and equipment manufacturer in history with over 200 years of existence. Since its inception (1817), the British company has focused its production in three sports only: football (soccer), rugby and netball.
Producing soccer balls and rugby balls was actually how the company was started, so it's safe to say they have a lot of experience on their hands.
That's why Mitre produces the official match ball for the English League Cup, the Scottish Premiership and the Welsh Premier Division, among other soccer tournaments and competitions in Great Britain and in other parts of the globe.
#8. Wilson
The Wilson Sporting Goods Company, founded in 1913, is a sports equipment manufacturer that's known for producing game balls (and other gear) for several sports such as American football, golf, tennis, basketball, volleyball and soccer.
In 1941, they began supplying the official balls for the NFL (National Football League) and, in 1979, the Chicago-based company struck a deal to supply the official tennis balls for the US Open; both agreements have lasted to this day.
When it comes to soccer, they have been the official ball manufacturers of the NCAA Soccer (Division I, II and III Men's and Women's Championships) since 2008; a partnership that has been extended through 2021 — NCAA's current official match ball is the Wilson NCAA Forte Fybird II.
#8. Under Armour
Under Armour is an American company that manufactures sports gear, footwear and apparel. It was founded in 1996 by Kevin Plank, a former special teams captain of the University of Maryland football team.
Being an athlete himself, Plank was driven to create high-quality products that addressed other athlete's needs like no other brand had done before.
This led this young company to quickly become a major player in several sports (soccer included), and to success and fame with lots of world-known sports stars proudly choosing its products over the competition's.
Under Armour produces lots of great soccer balls like the Desafio Total 395 and, from 2016 to 2017, the Baltimore-based company was the (first) official match ball supplier of the now-defunct North American Soccer League.
#10. Mikasa
Mikasa is a Japanese sports equipment and athletic goods company founded in 1917 specializing in the production of game balls — many of which are used officially — for several sports including soccer, beach and indoor volleyball, handball, waterpolo, basketball and gridiron football.
Although they're mostly known for being the official ball suppliers for all International Volleyball Federation competitions around the world as well as for the Olympics, they also produce high quality balls for official soccer, futsal and indoor soccer competitions.
Soccer Ball Buying Guide: How to Choose the Best
To help you make a more informed decision when picking the best ball for your needs, these are some of the questions you should ask yourself.
Type of Use: For what am I planning to be using this ball?
What type of use are you planning to do with your next soccer ball?
Are you going to use it mostly for training sessions?
If the answer is "yes", get a training soccer ball.
Are you going to be using it for matches?
If "yes", buy a match soccer ball.
Are you choosing a ball for a professional national or international competition? Or, are you looking for the best and most advanced soccer ball on the market right now?
Then get yourself a premium soccer ball.
Size: How old are the players that are going to be using this ball?
What's the age group of the players that are going to be playing with your new ball?
For each age group there's an appropriate ball size. So, depending on your answer to the above question, get the most suited size for that age group.
Quality/Price: How good do I want my ball to be?
Considering my type of use, desired quality and foreseeable usage, how much am I willing to spend?
Remember, you're looking for the best ball for your specific needs and budget, not really for the ultimate best and most expensive ball in the world ever (err… well, if that's what you really want, you can get that too).
High-end materials, greater efficiency and the latest technology all contribute to make a soccer ball more costly but, at the end of the day, how much any item really costs isn't as much about the price itself as it is about how you end up using it and how long it lasts.
That said, carefully weigh everything and ask yourself: how much money would it feel fair to spend on a soccer ball for its intended purpose?
What to Look for in a Training Soccer Ball
A great training ball is one that can be used over and over again.
You don't have to spend a ton of money on training ball. In fact, you don't need to. The more money you spend the less good it's going to be for training. Sure, it'll kick great, but you'll be disappointed that you won't be able to use it for very long!
That being said, look for a training ball that's composed of PVC (for the cover) and butyl (for the bladder).
The combination of these materials offers a lot of durability as well as allowing the ball to keep its shape and retain air better.
What to Look for in a Size 4 (Youth) Soccer Ball
Bladder
If you're going to use it for training (meaning, repeated everyday use), go with a butyl bladder soccer ball. They have a better air retention capability and keep their shape for more time.
If you're planning on using it in matches (i.e., higher quality requirements), look for a soccer ball with a latex bladder. Balls with latex bladders bounce better, have a nicer touch and better responsiveness.
Cover (casing)
For training: get a ball with a PVC cover. This kind of material does make the ball feel harder, but it also makes it last longer — something essential in a training ball.
For matches: choose a ball with a Polyurethane casing. Such covers offer increased softness, better touch and controllability.
Panels
For training: balls with more panels are the best choice since they help develop players' ball control skills.
For matches: usually balls with fewer panels are the best bet. They're more of a perfect sphere: making them faster and offering them the right conditions to curve better.
Lining
Pick a football with (at least) four or five lining layers; the higher the number of layers the better the quality of a match ball.
Size 4 Soccer Ball FAQ: Frequently Asked Questions
What is a size 4 soccer ball?
A size 4 soccer ball is a football whose size and weight is suited for players between the ages of 8 and 12 who are actually required to use such a ball size.
Youth players in this age group have outgrown size 3 soccer balls (suited for ages 8 and younger) and aren't old or big enough to be playing with a size 5 football yet (geared toward ages from 13 up).
The particular dimensions of a size 4 ball help avoid injuries that could occur with a bigger and heavier ball and allow youth footballers to develop and improve their soccer skills.
What is the circumference and weight of a size 4 soccer ball?
A size 4 soccer ball has a circumference of 25-26 inches (63.5-66 centimeters) and weighs 12-13 ounces (340-369 grams).
Are size 4 soccer balls of the same size as futsal balls?
Size 4 soccer balls are not the same thing as futsal balls nor are size 4 soccer balls of the same size as futsal balls.
What is the proper psi or air pressure for a size 4 soccer ball?
The proper psi or the proper air pressure for a size 4 soccer ball is 8.5-15.6 psi (0.6-1.1 bar).
Enjoy Higher Performance and More Fun in Your Soccer Sessions
Stop wasting money on items that just aren't worth the money. The best balls are meant to be durable or to perform well or both — depending on the type of use you intend to give them.
And, most of the times, they aren't that costly. It's best (and less expensive in the long run) to spend a bit more on quality than on something that you will have to replace again and again…
Remember to take good care of the one you get and enjoy it to its fullest making sure you have fun and level up your soccer skills while you're at it.
Happy playing!
Related Content Visitors Frequently Readt