Deciding which are the best soccer leagues in the world is not easy.
Everyone sees things differently. It's hard to reach a consensus.
Using statistical data would definitely make our lives easier. But numbers are just too cold to express feelings, preferences, likes and dislikes.
That's precisely the point:
Feelings and preferences are, undoubtedly, what's behind the beauty of the beautiful game people call soccer (in North America) or football (in the rest of the World).
Even so, we did our best and decided to use several factors and indicators to help us to do the job.
In this article, I'll be showing you which are the top-15 best football championships in the globe and explaining you why.
How We Rank the Top Soccer Leagues
To come up with this list we've combined tangible information with subjective factors. For example:
Talent production.
Quality of the matches.
Number of goals scored.
In-game fans' atmosphere.
Championship format and structure.
Level of competitiveness and unpredictability.
Personal opinions from fans from all over the planet.
Overall quality of the squads, players, coaches and stadiums.
Country football association's performance in international club competitions.
All of these sorts of things were considered in the making our list here.
All right! Without further ado, here are the…
Top-15 Best Soccer (Football) Leagues in the World
23 teams play 34 matches during MLS's regular season which runs from March to October with the winner being awarded the Supporter's Shield.
Through November and December, the 6 highest-placed teams from the Eastern Conference and Western Conference battle head-to head in the postseason MLS Cup Playoffs that culminates in the championship game, the MLS Cup.
Since it was officially formed back in 1995, Major League Soccer — the American professional soccer league with teams from both the United States and Canada — has been growing steadily in terms of quality and audience.
Great players like Zlatan Ibrahimovic, David Villa, Ashley Cole, André Horta, Bastian Schweinsteiger have brought even more quality, creativeness and experience to the MLS and things can only get better!
One thing to point out on the negative side, though: offseasons are way too long for soccer fans, especially if their team fails to make it to the playoffs.
The best thing about Super League Greece is the insane rivalry going on between the major clubs of Athens, the capital city of Greece.
Olympiacos, Panathinaikos and AEK Athens — dubbed the Big Three –- have dominated the Greek domestic football league as they have won most of the titles since the foundation of Greece's first official championship in 1927.
Other than them, only PAOK, AEL and Aris Thessaloniki have been able to grab the championship trophy a few times.
The second best thing about the Greek championship is the incredible atmosphere of live matches: it's simply… unbelievable and hard to translate into words.
#13. Ukrainian Premier League
Teams like Shakhtar Donetsk, Dynamo Kyiv, Metalist and Dnipro Dnipropetrovsk alongside with footballers like Júnior Moraes, Taison, Marlos and Ismaily and coaches like Paulo Fonseca offer interest and excitement to the Ukrainian Premier League.
Strong teams like CSKA, Spartak, Lokomotiv and Zenit offer a lot of competitiveness to the Russian Premier Liga.
Although Russian clubs don't usually make it that far in international competitions, RFPL's matches are quite interesting and enjoyable to watch or to attend live.
There are millions to be spent in getting international stars, but recent changes in regulations imposed a limit on the number of non-Russian footballers per team that are allowed to play simultaneously.
This measure is aimed at protecting local players in order to improve the quality of Russia's national football team.
With a very high attendance rate, Liga MX — Mexico's football league — is one of the greatest there is.
There aren't that many famous players although, truth be told, many are definitely underrated.
The game quality is amazing and might even surprise you. Several matches have high intensity that suddenly becomes really vibrant and filled with emotion with awesome plays and cracking goals.
Just like Brazil, Argentina's national football team is also one of the most powerful teams around.
It's no wonder then that the Argentinian domestic league keeps a countless number of promising stars and is the origin of legendary footballers like Diego Armando Maradona, Gabriel Batistuta, Di Stéfano, Kun Agüero, Di María and, of course, Lionel Messi.
Boca Juniors and River Plate bring a ton of rivalry to the championship making it even more interesting and… truly insane!
Let's not forget other great sides like Velez Sarsfield, Lánus, Estudiantes, Racing Club, Banfield, Independiente, San Lorenzo and Newell's Old Boys.
Attending a live Primera División match is undoubtedly a lifetime experience. The boiling and, many times, dangerous atmosphere is definitely hard to forget.
Brazil has always been one of strongest countries when it comes to football. Its national team is the most successful squad at FIFA World Cup tournaments and the only one to have won 5 World Cup titles.
Recent venues built for the 2014 World Cup dramatically improved the quality of the games both for spectators and players.
You'd be right to expect great goals and plays, stars with magic on their feet and good matches in the Brasileirão, including new promising footballers.
There's something about the mentality of club boards that needs to be addressed, though. Coaches rarely start and finish a full season in the same club. Some only last for a few weeks before being sacked.
Since there are a lot of games to be played (across many different competitions), Brazilian teams don't have enough time for proper training and to improve their overall game tactics.
This certainly doesn't make managers' lives any easier which, in turn, lessens the competitiveness of the league itself.
Powerful teams at international level like Galatasaray, Fenerbahçe and Beşiktaş — together with the crazy rivalry between the three emblems from the magical city of Istanbul – draw the attention of millions of soccer fans to the Süper Lig.
Add that to the indescribable atmosphere in Turkish matches and the presence of many world-class footballers and you'll have a really interesting league to follow.
The Portuguese Primeira Liga features three major clubs — known as the Big Three: SL Benfica, FC Porto and Sporting CP who are permanently fighting for the first position.
Despite the competitiveness among them, the overall squad quality is not very impressive if we look at the rest of the first division clubs.
There is a tremendous lack of money to signing in new players and stars due to the country's financial and economic difficulties; plus TV rights deals are very far to providing as impressive amounts of cash as in other European leagues.
Nonetheless, there are always surprises during the season and some stronger sides are starting to emerge (such as SC Braga, Vitória SC and Rio Ave).
New foreign youth players reveal themselves every year in the Portuguese league bringing excitement and play quality to the matches.
This is where Portuguese clubs excel: their scouting departments are able to find young foreign players at low prices. Those footballers are then grown in the Primeira Liga and sold for impressive sums to richer teams just a few months or seasons later.
As far as homegrown talent is concerned, Portugal has produced some of best soccer players over the years — there's no need to mention names like Cristiano Ronaldo, Bernardo Silva, Luís Figo, Rui Costa, Vítor Baía or Eusébio that have amazed millions of spectators across the Globe — and the Primeira Liga was their birthplace.
Don't be surprised to see many more future football legends coming from the Portuguese domestic league in the coming years.
Portugal has also produced exquisite coaches such as José Mourinho, Fernando santos, Jorge Jesus, Leonardo Jardim, Marco Silva, Nuno Espírito Santo and André Villas Boas.
That's probably why Portuguese teams often surprise bigger, richer teams at international level.
Legendary managers and players like Rinus Michels — the inventor of "Total Football", an impressive playing style and set of tactics that forever changed soccer — Johan Cruyff, Ruud Gullit and Marco van Basten are more than enough to describe what you can expect from the Dutch domestic soccer league.
Goals galore, creative plays, super attacking football, amazing youth footballers and historical teams such as Ajax, PSV Eindhoven, Feyenoord, AZ Alkmaar and FC Twente await you in the always exciting Eredivisie.
What Is Ligue 1 So Interesting?
Competitiveness
The French Ligue 1 has been a very competitive league since its inception with many different teams being able to grab the highest honors of becoming French champions.
Despite Lyon's dominance from 2002 to 2008 (during Juninho Pernambucano's era and the club's talent production golden age) where they won 7 consecutive championship titles and nowadays PSG's unstoppable force, competitiveness between non-title contenders continues to be high.
Cradle of Promising Stars
Ligue 1 is the birthplace of many promising stars that later excel in the French national team.
Talent production has always been the standard in the French domestic league. PSG's Kylian Mbappé (signed from AS Monaco FC) is the latest and greatest example.
Star Players
Soccer stars like Neymar Jr., Mbappé, Marco Verratti, Ángel Di María, Edinson Cavani, Thiago Silva, Dani Alves, Gianluigi Buffon, Memphis Depay, Radamel Falcao and others attract a lot of attention to the French league.
Unpredictability Might Be Back
PSG's dominance in recent years (and their seemingly unlimited funds to hire the most expensive footballers) made the French championship less unpredictable.
However, back in 2017, Monaco was able to surprise everyone and grab the title. Is unpredictability back to Ligue 1?
What Makes Ligue 1 Less Good?
Loss of Parity
Uncertainty about which team would be crowned champion had always been high, but when clubs like Paris Saint-Germain (PSG) or Monaco were bought by millionaires, parity between French title contenders started to be a distant memory.
While Monaco saw a disinvestment over the most recent times, PSG continued to build a stronger and more balanced squad.
The Parisians managed to recurrently lead the championship far ahead of the pack and became French chronic league winners.
To top that, in 2017 they wowed the world of football by securing Brazilian golden player Neymar Jr. from Barcelona with whopping sum of 222 M€ ($263M) and purchased Kylian Mbappé from Monaco for 180M€ ($203M).
Compared to some years ago, Ligue 1 has lost a ton of its fun.
Why Is Serie A So Good?
Cristiano Ronaldo Joined Juventus
CR7, one of the best soccer players ever, has joined Juventus from Real Madrid in a move that shocked fans from all corners of the planet.
This transfer has turned an already very powerful team into a strong candidate to winning the UEFA Champions League and has added a lot more fun and excitement to Italy's domestic club competition.
Great Sides
Regardless of the decrease in purchasing power of its major clubs in the past years, Serie A — the Italian soccer league — remains strong and features great sides like Juventus, Napoli, Inter, AC Milan, Roma, Fiorentina and Lazio, for example.
These are tough teams to beat at international level, for sure.
Legendary Players
The Italian soccer – a.k.a. Calcio — has always produced players of outstanding quality that have had long-lasting careers and have become legendary.
We can think of AC Milan's lifelong captain Paolo Maldini, Juventus' forever-young former goalkeeper Gianluigi Buffon (now playing for PSG), Roma's former striker and captain Totti, just to name a few.
Ageless Footballers
Footballers in Italy are truly ageless. Coaches don't mind their players' birth date as long as they are fit — which is always a question of honor for any Italian professional soccer player — and still capable of performing at their highest level.
Gigi Buffon is still one of the best goalkeepers in the sport even at 40+ years old.
Tactical Side of the Game
While many people may call it "boring", others see it as "enlightening". I'm referring to how super tactical matches can be in the Serie A.
If a coach succeeds in mastering the tactical side of the beautiful game in Italy then he / she will definitely succeed anywhere else.
There's simply no other championship where tactics are so important and well-developed like in Italy. Some matches are true chess games only suited for real masters of the dugout.
Inspiring Italian National Team
There's a particularly old "habit" concerning the Italian national team.
They usually start their international tournament campaigns (World Cups and Euros) in a poor fashion. But, then, they generally make it to the knockout stages and go far in those competitions.
(You're right in considering that the squadra azzurra has seen better days, nonetheless, that old "habit" still holds true.)
That could also be the case for Italian clubs in international club competitions; no matter how (bad) they start, what matters is how they end them.
What's Not So Good about Serie A?
Economic Difficulties in Italy
Serie A has been down mainly due to the great economic difficulties the country experienced in the last decade or so.
The obvious loss in purchasing power made Calcio sides lower their investment in signing new international players which translates to poorer squad quality across the teams.
(Fortunately, it seems that the worst days are now gone.)
Recently, though, some Italian clubs have been sold to millionaires or large corporations who have injected money into getting better footballers and offering higher-paid contracts to the existing stars.
Super Juventus
The biggest club from the city of Torino (and, possibly, Italy) is back to its fullest strength (after being relegated as a punishment for their involvement in the Calciopoli scandal).
They've won the last 7 championship titles, the last 4 Coppa Italia titles (Italian cup), have strengthen their squad by signing Cristiano Ronaldo from Real Madrid… so they seem pretty unbeatable.
Such a fact greatly reduces the interest in following the Italian domestic football.
Sporting Crisis
Some of Serie A's historical teams (like AC Milan and Inter) have been facing a sporting crisis for a long period which is stopping them from competing against Juventus for the scudetto (championship title).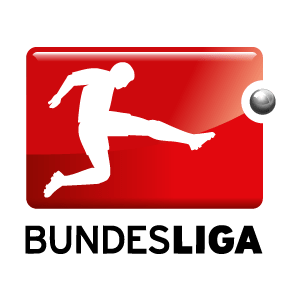 The Bundesliga ("national league" in English) is Germany's professional football championship.
It's contested by 18 teams on a promotion and relegation system and holds the highest average stadium attendance among all domestic soccer leagues.
What Makes the Bundesliga So Amazing?
One of the World's Strongest Clubs
The Bundesliga features (at least) one of the most powerful teams globally: Bayern Munich.
The Bavarian giants are, invariably, the strongest title contender in Germany and one of the most serious candidates to holding the UEFA Champions League trophy.
Great Teams
Despite not being as strong as the Bavarians, other Bundesliga title contenders are still successful clubs. Among them we have Borussia Dortmund and Shalke 04.
Bayer Leverkusen, Hertha BSC and Borussia Monchengladbach — just to name a few of them — are also strong sides.
The last few years have revealed a new emerging team. RB Leipzig quickly turned out to be 2016-17 season sensation and have now become an established Bundesliga side. They are owned by a famous beverage brand that promises to take the club to the top.
Star Players
The Bundesliga features great players such as Manuel Neuer, Thomas Müller, Robert Lewandowski, Arjen Robben, Franck Ribéry, Renato Sanches, Raphaël Guerreiro, Marco Reus, Mario Götze, Mats Hummels, Timo Werner, James Rodríguez, Axel Witsel, Shinji Kagawa and many others.
Attendance
Attendance in Bundesliga matches is as high as it gets — the German domestic championship has the highest average stadium attendance worldwide — with fans taking much pride in their clubs and offering amazing support to their teams.
Borussia Dortmund's "Yellow Wall" is the perfect example of that; its dimensions and noise are second to none and, surely, an unbelievable sight.
Stadiums
Soccer stadiums in Germany are of top-notch quality, which is a Bundesligastandard.
Most of the stadiums hold between 30,000 to 60,000 spectators with five venues holding more than sixty thousand people.
Bayern Munich's Allianz Arena (75,000 seating capacity) and Borussia Dortmund's Signal Iduna Park –- the well-known Westfalenstadion — (81,000 seating capacity) are Bundesliga's biggest stadiums.
Talent Production
After failing shamelessly during the Euro 2000 competition where Germany's national soccer team (the Mannschaft) finished last in its group, the Deutscher Fussball-Bund (DFB; Germany's national association football federation) implemented a new set of rules aimed at finding and growing local talent.
All clubs were required to have a youth academy and DFB itself took care of identifying homegrown players that might have been missed in the years before the new implementations.
The outcome of this new system was the appearing of world-class players like Thomas Müller, Marco Reus, Mario Götze, Mesut Özil, Manuel Neuer, Mats Hummels and countless others.
It eventually led to the victory in the 2014 World Cup for the German side and the overall higher quality of the Bundesliga's club squads, where new stars arise every day.
What Makes Bundesliga Less Interesting to Follow?
Unstoppable Bayern
Much like in La Liga, Serie A and Ligue 1 (are we seeing a trend here?) Bayern Munich is Germany's strongest team and seems unbeatable.
The Munichians won the last 6 Bundesliga titles and seem to be the most equipped team to win again.
This season, though, they started the competition in very poor fashion — much like in the previous season where they were forced to sack Carlo Ancelotti in late September, but still managed to be crowned champions thanks to Jupp Heynckes who took a break from his retirement to help them.
Actually, in recent years, they have only missed performing at their highest level when they failed to hire the right coach to manage the team.
This dominance throughout the last few seasons brings less uncertainty to the German league making it a bit less interesting to follow.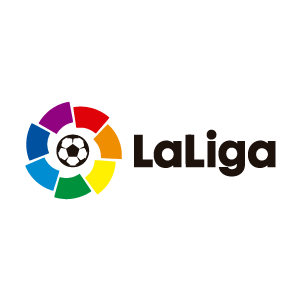 The Primera División (more widely known as La Liga), which is ran by the LFP (Liga de Fútbol Profesional), is the main professional soccer club competition in Spain.
This exciting domestic championship is contested by 20 teams on a promotion and relegation system.
What Makes La Liga So Powerful?
The World's Two Best Soccer Clubs
The Spanish association football league features the two best clubs in the world: Real Madrid and Barcelona.
Real Madrid were voted the Best Club of the 20th Century by FIFA.
Barcelona have been recurrently considered the best team in the World for his attractive style of play.
World's Best Footballers
If we only mention Real Madrid and Barcelona we'll find galactic players like:
Croatian midfielder Luka Modrić (one time The Best award winner),
Spanish defensive rock Sergio Ramos,
Brazilian lightning-fast left back Marcelo,
German midfield dynamo Toni Kroos,
Welsh speedster Gareth Bale, and
French keeper Thibaut Courtois for Los Blancos.
And extraterrestrial individuals such as:
Lionel Messi (5 Ballon d'Or awards),
Spanish defensive boss Gerard Piqué,
Spanish extremely attacking left back Jordi Alba,
Brazilian midfield magician Philippe Coutinho,
Uruguayan fearless striker Luis Suárez, and
German keeper Ter Stegen for Los Culés.
Several Great Teams
We have Atlético de Madrid, for example, coming in from behind and trying to steal the title from the Big Two with a team that doesn't stop fighting much like its coach Diego Simeone when was a player.
Atléti features world-class footballers including Antoine Griezmann, Diego Costa, Thomas Lemar, Gelson Martins, Diego Godín and Jan Oblak.
Several Exciting Teams
Several other exciting teams follow along and may even surprise the top title contenders. Sevilla, Valencia, Real Sociedad and Villareal are the best examples.
Attacking Spirit
There's a shared attacking spirit in all La Liga teams which makes every match unpredictable. Each and every side is willing to fight as hard as they for the 3 points as long as the match lasts.
What Could Be Even Better in La Liga?
Huge Gap between the Teams
La Liga has plenty of awesome matches, but there's clearly a huge gap between the top 2-3 clubs and the rest of the championship teams.
Real Madrid and Barcelona who have been dominating the scene for decades — and even Atlético de Madrid who's able to steal the show, every now and again — are on a very distinct stage, one that's far above and beyond the rest of the crowd.
This dominance and difference in squad quality only contributes to the decrease of the overall competitiveness of the Spanish domestic soccer league.
Cristiano Ronaldo Said Adiós
Real Madrid has lost their most valuable player to Juventus; Los Blancos were unable to convince CR7 to keep playing for them.
With that, they have also lost around 50 goals per season, a ton of notoriety, influence and a charismatic team leader.
Although there may be no "irreplaceables" in soccer, there are some players who are harder to replace than others. And Ronaldo is the iconic example of such.
The Ronaldo vs. Messi Dispute Has Come to an End
What had been one of the highest points of interest in the last 9 years is… no more. With CR7 leaving for Juventus, the Ronaldo vs. Messi dispute has come to an end.
This particular contest that lived within La Liga was just as interesting to follow — some people would find it "even more interesting"– as the championship title fight itself.
In spite of both football stars remain battling for the recognition as the best player in the planet — which is "translated" by awarding one of them the desired Ballon d'Or award and FIFA's The Best award — they no longer do it head-to-head in the Spanish championship.
Regardless, these true aliens keep pushing each other to break their own boundaries and go beyond their limitations.
It's hard (and it will always be) to pick the best between these two out-of-this-world footballers. Why waste your time discussing it when you can, instead, just enjoy watching them play and do wonders with a soccer ball?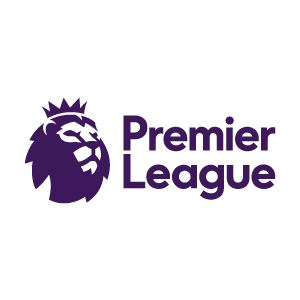 The Premier League — also known as Premiership — is a professional association football league. It's England's top football championship and is contested by 20 clubs — including those from Wales that compete in the English soccer league system.
The Premier League — also known as Premiership — is a professional association football league. It's England's top football championship and is contested by 20 clubs — including some from Wales that compete in the English soccer league system.
Its origins go back to 1888 when it was founded as the Football League.
On February 20, 1992 it was reformed as the FA Premier League per decision of the First Division clubs to take advantage of a millionaire TV broadcasting deal.
The English Premier League (EPL) is the most-watched sports competition in the world with a potential television and live stream audience of 4.7 billion people.
Why Is the Premier League the Best Soccer League In the World?
Household Names
Historical clubs like Liverpool, Manchester United, Arsenal, Tottenham Hotspur and Everton with several English League titles won bring the world's attention to the EPL.
Emerging Teams
New clubs are growing bigger, becoming more important — much due to their new billionaire owners — and winning championship titles more often in recent years like Chelsea FC and Manchester City.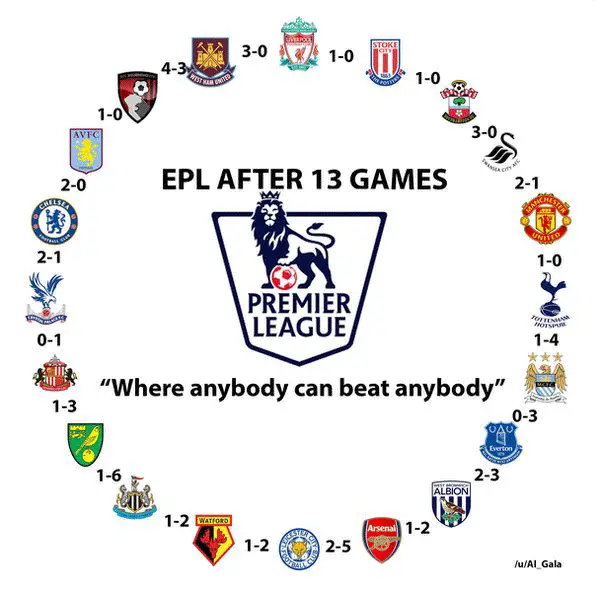 Any club can literally beat any club in the English Premier League
Competitiveness
Any club can literally beat anybody in the English Premier League.
There is no such thing as a pre-announced victory by the supposedly strongest side ("which is strongest team?" is a hard-to-answer question).
Prove of that is what you can find in the next bullet point.
Teams' Parity — Anyone Can Win
The real value on the playing field of all the teams is fairly similar which makes it a much more balanced championship than the rest. Practically anyone can end up holding the championship trophy.
The best example? In 2015-16, Leicester City FC, tipped for relegation, surprised the world when they won the Premier League.
If you think that was a one-time event, check out this list of the English football champions and be surprised.
International Talent
Money is something that surely isn't lacking for the wealthy English championship clubs.
Million-pound broadcasting contracts fill up their safes allowing them to invest more in signing even better players.
Great Coaches
José Mourinho (Man. Utd.) and Pep Guardiola (Man. City) are two of the best coaches in the game. (Some even see them as the best in the world).
There are also other great ones coaching EPL clubs such as Mauricio Pochettino (Tottenham Hotspur), Unai Emery (Arsenal), Maurizio Sarri (Chelsea), Jürgen Klopp (Liverpool), Manuel Pellegrini (West Ham United) and Rafael Benitez (Newcastle United) just to name some of non-British ones.
Mourinho-Guardiola Rivalry
There's a long and huge rivalry between Mourinho and Guardiola that comes from when they were both in La Liga managing Real Madrid and Barcelona, respectively.
Each one of them wants to be better than the other and, ultimately, considered the best coach in history. This kind of rivalry only adds to the spectacle.
Play Mentality
The FA Premier League is the best soccer league in the world due to its unmatched play mentality.
Matches are only really finished when referees whistle their final whistle. Until then, there's a fearless fight for the final victory.
Atmosphere
The atmosphere in EPL stadiums is simply breathtaking. Awesome and legendary venues provide the best scenario for the greatest and most exciting matches.
And the supporters… are one of a kind!
Supporters
British supporters are unique in that they never stop cheering, singing and applauding for their clubs… even they lose.
Fair-play
Both players and supporters know when their opponents perform better and are worthy winners.
It is not uncommon to see supporters from one team applauding the opponent side when the matches are over.
Measurable & Not So Measurable Indicators
Like stated before, you can take into consideration a ton of indicators to come up with your list of the top domestic football championships.
While some indicators may come from actual data like:
Spectators attendance
Number of goals scored in a season
Parity between the league teams (measurable by the point difference between the champion and the last placed side)
Discipline (number of red cards seen)
Others bring a lot more subjectivity to the table:
Quality of the teams (across the distinct leagues)
Level of rivalry between the most-known clubs
Overall game quality
Level of the players
That's not all, though.
You should also acknowledge that each and every one of those factors may have unpaired degrees of importance.
What's more important to me might not be as important to you.
E.g.: Some people might love the tactical aspect of the Italian Calcio, while others might prefer South American soccer's impetuousness and endless battles.
Conclusion
We've listed our top-15 football leagues in the world and explained the positive and negative sides of each of those competitions.
Picking out the best soccer leagues is very subjective, as you might have expected. There are a ton of factors and stats into the mix — like personal preferences and patriotisms — that may influence the final choice.
Besides, domestic championships across the Planet keep changing and what's ranking #1 today might not be in the future and vice-versa.
A fine example is the MLS. The American soccer championship is growing up fast and set to become one of the most interesting ones in the coming years.