In our in-depth Aztec soccer ball review, you can find everything about this visually impressive ball produced by Chaos Soccer Gear — a young company from Texas, USA — such as official specs, construction and type of materials used, design, touch, feel, overall performance, pros and cons and much more including our final verdict.
Verdict: RECOMMENDED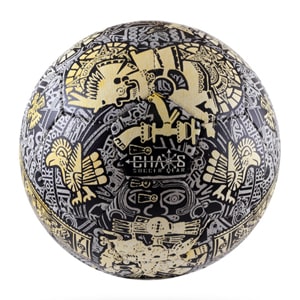 As you'll be able to learn from our review of the Aztec below, this ball is definitely a great choice.
By combining superior quality, modern technology and beautiful design at a very affordable pric,e it directly competes with other high-end, top-market options.
Review Details
High-quality, match-ball size 5
«Because Soccer Matters»
«To be the brand for those who really love soccer. To develop high-quality, high-end soccer products.»
«To be the brand for those who really love soccer. To develop high-quality, high-end soccer products.»
Since even before it was officially founded, Chaos Soccer Gear, a brand new sports company from Austin, Texas (USA), began working hard to live up to its vision statement. They're craving to be more than just another soccer brand; they aim at becoming "the brand for those who really love" the beautiful game.
Why?
«Because soccer matters» to them.
To fulfil this dream they have planned to develop high-quality, high-end soccer products.
The Aztec soccer ball is just their first item and represents the official launch of Chaos Soccer Gear which occurred in December of 2016.
Let's get to know the ball a bit more…
Getting to Know the Aztec
The Chaos Aztec is manufactured per FIFA specifications and made responsibly by BSCI and FAIRTRADE certified experts who craft the ball to perfection using top materials.
This match ball is perfect for outdoor grass, outdoor turf and indoor turf and comes with a two-year warranty for shape and size which means that, if those fail, customers can send it back and will get a new one (free of charge, of course) from the Texan soccer gear brand.
Unboxing the Aztec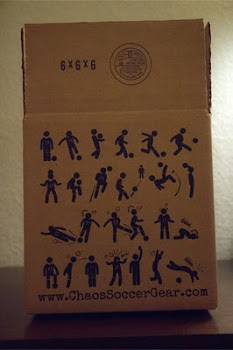 I got a free Aztec football to try out and test sent over by the brand owners. (The ball is mailed to customers in a paper box which also has a unique design.)
When I unwrapped it, I found a very classy black silk bag stylized with the Chaos Soccer Gear logo. Immediately after releasing the silk bag's strings I was able to sense the tasty smell of a brand new ball. (Is there any better feeling out there, fellow soccer players?)
(The ball comes pre-pumped up — but it might need a few extra pumps.)
I finally had the Aztec in my hands and I was simply amazed by its awesome Aztec drawings. I took a closer look at the unique custom dimples and stitched panels and was blown away. You can only find this kind of dimpled texture and superior quality on very high-end and pricey soccer balls like these premium ones.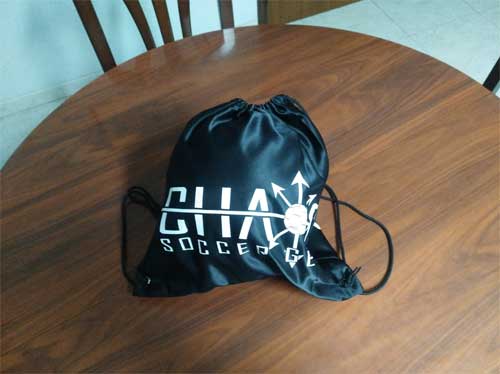 I bounced it a few times on the ground and juggled, kicked and headed it for a few minutes just to gauge how it felt. (This is, by the way, how you tell the difference between a hard ball and a soft ball, between a lower quality soccer ball and a high quality one.)
Just in this initial period of being introduced to it, the Aztec was already proving to be a really great ball. But… could it be compared to costlier official match balls?
Comparing the Aztec with High-end Match Balls
All these sweet details I've referenced so far (the unique paper box, classy silk bag, pretty design, feel and quality) really tell a lot about the brand itself and how they care about their products and customers.
If Nike or Adidas were to produce such a similar quality ball they would probably charge around $200 USD for it. (I'm not saying that both brands don't care about their customers and products, mind you!)
Considering that the high-quality Chaos Aztec ball is being sold for about a third of that amount (at the time of this writing — please check its current price before considering to purchase it) — not because it isn't worth more but due to the brand being forced to lower its price to fight its way in in a very competitive and tough market — then it is unquestionably an excellent choice.
As you'll be able to read in further detail in just a second, the Aztec offers similar playability, reliability and performance as the top market options for half their price allowing it to compete with major brands and high-end match balls.
How Are Customers Responding to the Aztec?
Despite its low price, things are not easy for the Texan soccer gear brand. Customers are reacting very positively to the Aztec and like it quite a lot but when it's time to decide they usually opt for the more known brands.
It is still too soon, though, for this young company. They believe that, within time, things will change for their benefit and sales will hopefully start coming in.
Chaos Aztec Ball's Official Tech Specs
It's now time to get a little more technical and check this football's official tech specs and what they mean.
32-panel casing: The classic 32-panel design allows for great reliability, best flight and makes the ball easier to control.
Hand-stitched panels: The over 690 stitches that hold the 32 panels together are 100% handcrafted by professionals which is beneficial in terms of quality and durability. A true craftsmanship work of art which makes the Aztec the most original and hard wearing soccer ball out there.
Dimpled polyurethane: The 1.5 mm of high quality, micro-texture polyurethane surface with unique custom dimples helps reducing drag and improves the aerodynamics of the ball making it faster and firmer while maintaining its stability.
Polyester linings: 4 layers of polyester together with 6 ply-threads offer maximum protection and durability, unmatched strength, structure preservation and better bounce.
Butyl bladder: The synthetic bladder is excellent for a combination of air retention (less pumping) and contact quality (feel) ensuring the ball's performance encounter after encounter.
Impressive Design
There's no doubt that one the most remarkable aspects of the Aztec is its impressive design which is sure to catch everyone's attention on the playing field.
Where Does the Idea for the Design Come from?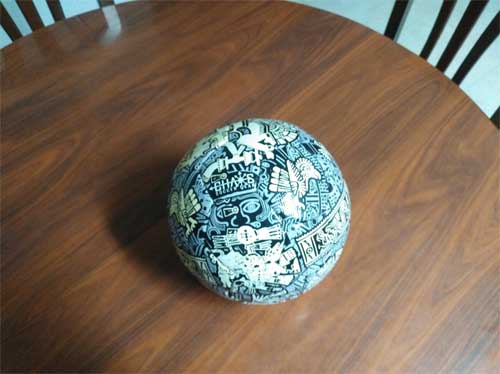 The beautiful-looking patterns on the Chaos ball depict a medley of the Aztec mythology. Being based in Texas, the soccer gear brand was taken by the huge Aztec influence in the region. (Remember: Texas used to be part of the region where the Aztec civilization was located about 500 years ago.)
The idea for the ball's design came from seeing many locals bearing Aztec tribal tattoos. Chaos' owners thought it would look good on a ball and it undoubtedly does.
Will the Ball's Patterns Wear Off Easily?
The folks over at Chaos Soccer Gear really thought things over when it comes to how (awesome) the ball looks at first sight and… in the long run.
They pushed the boundaries in regards to design quality and preservation by adding an extra layer of protective coating to the ball's casing. Meaning that what is probably the most beautiful soccer ball on the market will stand the test of time and keep looking as good as in the first day game after game for a long period.
Is the Design Good for Players? Can It Interfere During Play?
The Aztec's beauty is a guaranteed conversation starter. Nevertheless, if you're playing under night lights or when there's not too much sun light (like when it's cloudy or rainy), its stunning look might not help in terms of visibility.
A few stripes of brighter colors on the ball would come in handy for that kind of poor playing conditions.
At the same time, some people reported they took a while longer to find the ball's pump hole (due to the Aztec's darker patterns) when they first pumped it. I guess, though, this is just a matter of getting used to the ball.
Type, Size, Weight and Balance
The Chaos Aztec is a match-ball type of ball of size 5 weighting between 14 and 16 ounces (397 to 454 g) — check out our soccer ball size and weight chart to learn more.
When choosing the best ball for your needs always be aware of its weight. Overly light balls are not that fun to play with; too heavy balls are even worse.
The Aztec is neither too light nor too heavy resulting in a nice overall balance which is the most appropriate for greater playability.
Construction
As far as construction is concerned, here's how the Chaos ball was built.
Casing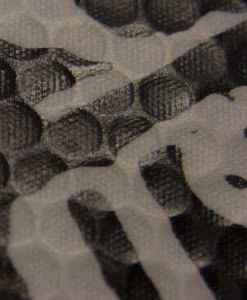 The Aztec casing is composed of 32* hand-stitched** high-quality 1.5 mm thick polyurethane (PU) panels – which do not feel too thick or hard — featuring a custom dimpled surface.
PU allows for better footwork responsiveness and is more geared towards match-balls, which is the case here.
The combination of the hand-stitched PU panels and dimpled surface is optimal for increased durability, better drag reduction, improved aerodynamics, faster and firmer ball movement, greater stability (meaning the ball stays steady, with little movement, positively influencing flight predictability) and reduced water absorption.
On top of everything, there's an added coating layer that protects and preserves the casing design. There's no other brand doing the same thing anywhere else.
According to the brand itself, the dimpled surface with the Aztec design they ordered from their renowned manufacturer was thought impossible to be made but Chaos pushed them and the result did come to life and is… super cool.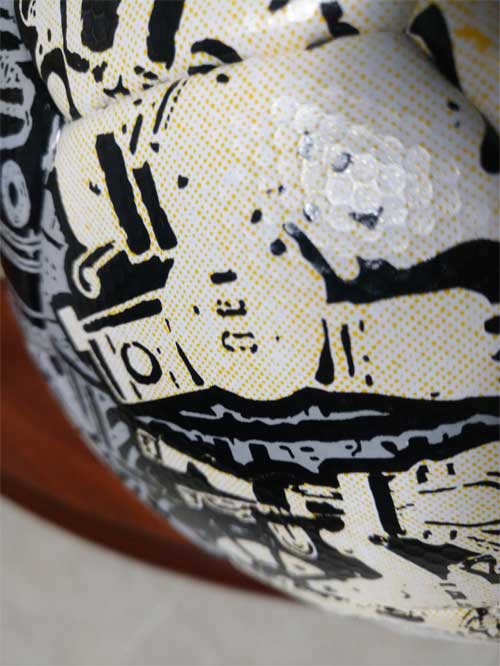 Actually, the final version of the Chaos football only felt right at the third attempt. They kept asking for changes and improvements and when they got that thicker dimpled surface of 1.5 mm they were finally happy with the results. This goes to show how much effort and care Chaos really put into the making of the Aztec.
* More panels make it easier to control the ball; fewer panels turn the ball faster.
** Higher quality balls are either hand-stitched or thermally bonded; lower quality ones are usually machine-stitched.
Linings
Beneath the cover there are four polyester linings accompanied by six ply-threads to protect the bladder while strengthening the ball and preserving its structure.
The presence of these linings make sure the ball is perfectly round allowing it to bounce and perform better over an extended lifetime period.
Bladder
The Aztec comes with a butyl bladder. This kind of synthetic material retains air inside for more time (compared to latex); thus less refilling is required.
The material used on the bladder affects contact quality too; Aztec's butyl bladder makes it feel very good.
Tip
You should avoid balls that are too hard or heavy. Very soft balls, on the other hand, should also be avoided because they usually bounce more than they should and may respond in an unpredictable fashion when kicked.
Official Approval & Tests
FIFA
The Chaos Aztec was manufactured under FIFA specifications and is ready to pass the "FIFA Approved" tests.
Two-Year Warranty
Chaos guarantees the quality of their balls and offers a two-year warranty for shape and size. As already referred, in the eventuality of the ball losing its original shape and size, customers just need to send it back to get a new ball in return.
Ball Quality Tests
The Aztec soccer ball was made by a very reputable manufacturer with over 15 years of experience in the business of making balls. Every aspect of the ball was validated and tested thoroughly by them to assure the ball followed FIFA's standards and was ready to pass the toughest and highest level of tests available (the "FIFA Approved" tests).
Amongst other tests, the ball was tested for proper weight, circumference, air pressure retention, water absorption, flight stability and bounce.
Pros & Cons
Like everything, including the most perfect of products, there are always some pros and some cons. Some might come from personal preference; others might be more consensual in nature. Let's take a quick look at them:
Pros
Very good feel;
Unique ball design;
Top quality materials;
True conversation starter;
Unparalleled controllability and responsiveness;
Excellent ball performance (flight predictability, air flow and drag, bounce and durability);
Very affordable price (especially compared to other high-end quality soccer balls);
Effort, care and thought put in the making and construction of the ball shows how serious the brand is.
Cons
Low ball visibility when playing under poor light conditions;
Some people might find the ball too beautiful to play with. 🙂 (This sounds funny but it really does happen.);
Chaos Soccer Gear is still a very young and unknown brand which can raise some doubts in the moment of purchase.
Latest developments in ball manufacturing have introduced thermally-bonded panels, whereas the Aztec is hand-stitched. (Which, to be fair, is how high-end, top-quality balls are also produced — as opposed to machine-stitched low-quality balls).
See the Aztec In Action
Some known (and less known) U.S. soccer players have already tried the ball out and have enjoyed it a lot.
In her video you can watch National Women's Soccer League (NWSL) star Yael Averbuch 1-2-catch challenge herself with the Chaos Aztec ball.
Matt Sheldon, a professional soccer player and the guy behind the Become Elite website, has also tried out the Chaos ball in one of his YouTube channel videos.
To actually see it being kicked and how it behaves in flight, check the video below.
Conclusion & Verdict
Now that we conclude this Aztec soccer ball review, you should already have a better understanding of how good the first ball ever produced by Chaos Soccer Gear is.
Its eye-catching design, unique dimpled surface, high-quality materials, good performance game after game, sweet behavior in play and durability make it an excellent choice if you're considering getting a top-notch match ball.
For some people, they'd be right to say that its design may interfere during play under poor light environments. The dark colored patterns make it difficult to focus on where the ball is at all times. Nevertheless, that's not something that will prevent most players from getting the ball.
In fact, Aztec's fairly low price, modern technology and awesome quality push it up to where the top match balls are by offering similar playability.
I guess it's pretty obvious, by now, what my verdict is. Trying out and playing with the Chaos Aztec was a lot of fun. I really liked kicking it and dribbling with it. It's a great ball to use in matches, add to your soccer ball arsenal and it is really cool to look at, as well. Besides, for its low price, you really can't get a better deal.
All of this to say: I recommend the Aztec ball by Chaos Soccer Gear.