In this article, we've not only reviewed the best soccer socks (that offer comfort, performance and help prevent blisters), but we've also created a complete guide that explains everything you need to know on how to choose soccer socks — including materials and construction, sizes and cuts, style and technology.
I bet you're in a hurry, so I'll just cut to the chase!
Best Soccer Socks [September 2023]
Next, let's review each of these soccer socks in more detail!
Disclaimer
In order to maintain this website, we are linking out to Amazon / other stores and may earn a small commission, at no extra cost to you, if you complete a purchase.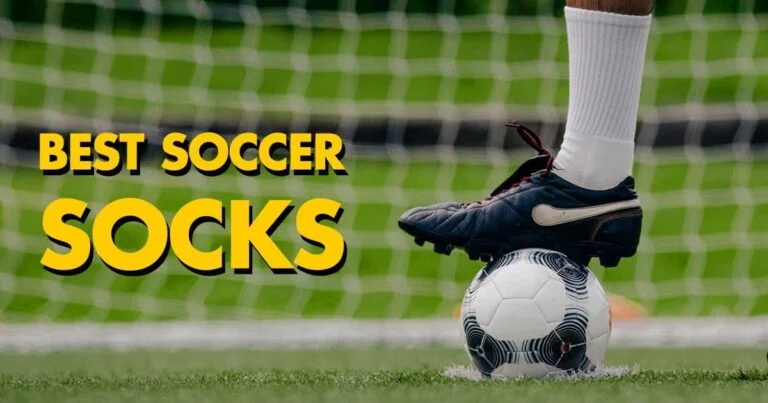 Best Anti-blister / Grip / Anti-slip Soccer Socks
TRUsox® 3.0 Mid-Calf Crew Cushioned Socks
We've considered Trusox socks the best grip and anti-blister soccer socks on the market.
These socks are made from a mesh of synthetic and natural materials (60% nylon, 39% cotton, 1% spandex) that quickly wicks moisture away to keep your feet dry and cool; and they come with targeted, shock-absorption cushioning that makes them feel pretty comfortable.
Trusox's best feature is their patented anti-slip technology that's responsible for offering a greater feet stabilization and for preventing blisters from forming. The INEXtech grip pads hold your feet and heels firmly and secure in place both inside your socks and cleats without sliding — an essential factor to keep your feet free from blisters.
These non-slip pads (on the interior and exterior of the sock) make switching direction and increasing speed suddenly much more easy and efficient than ever before which, in turn, will give you that extra boost of confidence you need to feel totally comfortable with your creative decisions on the game field.
They might seem pricey, but there's a reason why so many are wearing them under their team's socks, a reason why they've become popular among professional soccer players: they're worth it!
TRUsox® 3.0 Mid-Calf Crew Cushioned
Made from a moisture-wicking blend of synthetic and natural materials, these socks come with shock-absorption cushioning for supreme comfort.
The patented anti-slip technology provides feet stabilization, preventing blisters and promoting a secure fit within your cleats.
Worn by many professional players, these socks are a worthy investment in your soccer gear.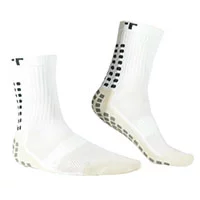 If you click these links and complete a purchase, we earn a commission at no extra cost to you.
Best Nike Soccer Socks
NIKE Vapor Crew Socks
The NIKE Vapor Crew are easily one of the best sports socks around.
They are composed of mostly synthetic fibers (58% polyester, 31% nylon, 6% cotton, 5% spandex) and come with an especially designed mesh (branded NIKE Dry fabric) in high-heat areas whose enhanced ventilation wicks sweat away to keep your feet cool and dry at all times.
They provide great support and a perfect fit thanks to the dynamic arch band located at the midfoot while the ribbed welt at the top holds the socks in place and the zonal cushioning reduces impact and absorbs shock when you run or jump offering them a nice feel when doing sports.
Some folks say that these socks go higher than crew socks, more like over the calf, but not long enough to cover shin guards, so you might consider them as another good option for using under your team's socks.
All in all, the NIKE Vapor Crew have a great grip and padding, fit very well, they're lightweight, breathable, they're easily washable and very comfortable for soccer players.
NIKE Vapor Crew Socks
Crafted from synthetic fibers and featuring specialized NIKE Dry fabric mesh in high-heat areas, they ensure excellent moisture-wicking and ventilation to keep your feet cool and dry.
Despite extending slightly higher than typical crew socks, they remain ideally suited for wear under team socks, providing superb grip, lightweight comfort, and easy washability.
Whether you're running, jumping, or kicking, the NIKE Vapor Crew offer optimal comfort and support for soccer players.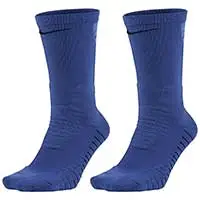 If you click these links and complete a purchase, we earn a commission at no extra cost to you.
Best Adidas Soccer Socks
adidas Copa Zone Traxion 4 Socks
The adidas Copa Zone Traxion 4 are completely cotton-free as they're 100% made from synthetic materials (98% recycled nylon, 2% elastane — commonly known as spandex).
They provide a high level of grip and protection from impact thanks to the cushioned traxion areas of the foot and achilles while offering increased stability due to their arch and ankle support. Plus, their left- and right-foot specific fit footbed (branded Formotion) gives you added comfort.
As far as keeping your feet cool and dry and breathability, the adidas Copa Zone Traxion 4 socks come with two kinds of technology to achieve that: the Climalite yarns that wick moisture away and the Climacool mesh channels that improve ventilation.
To sum it up, having been designed with the requirements of elite athletes in mind, these knee-high socks are awesome for playing soccer and a great option for your local soccer competition.
adidas Copa Zone Traxion 4 Socks
These socks offer excellent grip and impact protection with cushioned traxion areas in the foot and Achilles, coupled with enhanced stability from arch and ankle support.
With Climalite yarns and Climacool mesh channels, moisture is wicked away effortlessly, keeping your feet cool and dry while enhancing breathability.
Designed with the rigors of elite athletics in mind, these knee-high socks are perfect for soccer and a stellar choice for any local competition.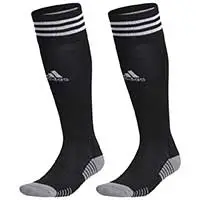 If you click these links and complete a purchase, we earn a commission at no extra cost to you.
Best Soccer Socks for the Money
adidas Rivalry Field OTC Socks
The adidas Rivalry Field OTC (OTC stands for "over the calf") socks are practically made of synthetic fabrics only (93% polyester, 3% nylon, 2% spandex, 2% natural latex rubber) with yarns that sweep moisture away quickly to keep your feet dry and fresh. The materials used and their quality construction make these socks durable, very soft, cozy and flexible — stretching enough for any calf size.
Besides not being flimsy, they're not overly thick for your cleats, either. They're easy to put on, fit well and cover your soccer shin guards nicely. The double-welt construction at the top is decently comfortable, helps keep your socks up and doesn't leave any marks regardless of how long you wear them. The arch and ankle compression of these adidas socks add stability to your feet and they also feature a fully cushioned footbed that is great for shock absorption and impact protection.
If you're looking for a quality pair of soccer socks at a good price, this is it — it gets even better, because it's a 2-pack deal — meaning, you get two pairs for the price of one.
adidas Rivalry Field OTC Socks
Composed almost entirely of synthetic fabrics, they feature yarns that rapidly wick away moisture, leaving your feet dry and fresh.
These durable, soft, secure-fit socks stretch to accommodate any calf size and cover soccer shin guards effortlessly.
Not too thick for your cleats, yet far from flimsy, they offer optimal comfort with a double-welt construction.
The arch and ankle compression ensure greater stability while the fully cushioned footbed absorbs shocks, offering impressive impact protection.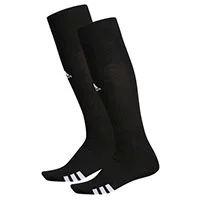 If you click these links and complete a purchase, we earn a commission at no extra cost to you.
Best Affordable Soccer Socks
adidas Team Speed II Socks
Apart from the durable materials used (78% nylon, 8% polyester, 2% spandex and 12% natural latex rubber), these socks come with moisture-wicking yarns and mesh channels that make them breathe well, ensuring your feet are kept cool and dry; plus, a lightweight construction so they fit well and maintain your foot sensitivity when controlling the ball.
They're very comfortable to wear, its seams are impossible to feel; they're easy to put on, soft and stretchy but still snugly. They're thick enough and long enough to hold your shin guards in place — so much so that you'll have to roll them down below the knee, but the great thing is that the top of the sock is purposefully thin to accommodate for that and they'll stay up without hurting or leaving marks.
Their right- / left- foot specific footbed cushioning (which isn't overly thick) protects the bottom of your feet (toes and heels included) giving you the best support in high-impact areas that blister easily while, at the same time, preventing slipping inside your cleats or bunching up over the toes. For added support and a secure and comfortable fit while you play, the adidas Team Speed II also feature targeted arch and ankle compression in the right amount of pressure.
adidas Team Speed II Socks
These socks deliver comfort, durability, and performance, offering excellent moisture management, softness, and stretch.
They provide a secure fit, adequately holding your shin guards in position, and feature a specific footbed cushion that delivers necessary support and prevents friction damage.
With arch and ankle compression, these socks ensure optimal comfort and secure fit during your field plays.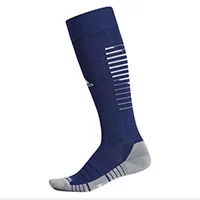 If you click these links and complete a purchase, we earn a commission at no extra cost to you.
Soccer Socks 101
What Socks Are Good for Soccer?
Socks good for soccer keep your feet safe from damp conditions, reduce friction between themselves and your feet to avoid blisters, maintain your foot inside your cleat and improve traction, and provide optimal cushioning and foot support.
Synthetic fiber soccer socks are the best at wicking moisture away and keeping your feet dry.
Socks with few or no seams reduce friction between the socks and your feet and help avoid blisters.
Grip socks help maintain your foot inside your cleat and improve traction.
Foot-specific socks provide optimal cushioning and support.
What Are Soccer Socks For? [Purpose]
The primary purpose of socks — especially when it comes to athletic or soccer socks — is to protect the overall health of your feet.
Proper socks keep your feet dry (and warm in cold weather) by absorbing the moisture caused by the many sweat glands we have in our feet. They're able to prevent conditions like athlete's foot, bacterial infections and sores and provide cushioning to pad the feet. And, as long as they fit right, they also prevent the rubbing of the shoe on the foot which can cause blisters.
Not only that, but socks also protect soccer players against the skinning of the knees or the scraping of the legs.
Additionally, if they come with compression technology, they improve blood circulation which helps decrease leg fatigue during sporting sessions thus enabling athletes to perform at their best.
What Are Soccer Socks Made of? [Materials]
The most common materials used for manufacturing soccer socks are cotton, wool and synthetic fibers.
Each of these are usually the ones with the highest percentage among a combination of other components. You'll hardly find a sock that's 100% made of a single kind of fabric; there's always a blend of more than one.
Cotton
Being soft, lightweight, good for sensitive or allergy-prone skin and breathable (much more than polyester) makes cotton a good sock material when it comes to comfort, but you'll want to avoid it in certain situations.
Cotton's moisture-absorbing properties together with its inability to dry quick will quickly get your feet drenched in sweat on a hot summer day. To make your socks more moisture resistant, cotton is usually blended with nylon, a nonabsorbent fiber.
In short, stay away from 100% cotton socks as this material gives no insulation in the cold weather, it doesn't wick away sweat and it rubs against your skin to create blisters and other foot problems.
Wool
Wool has incredible insulating properties, even while wet, being able to hold up to a third of its weight in moisture before starting to feel wet. Meaning, it will keep your feet warm and dry for a long time.
It's also a highly breathable material drying quicker than cotton and some other synthetics fabrics. And, through a process called "evaporative cooling", it's quite odor resistant which is pretty cool as you won't have to wash your socks after every use.
Now, unlike what most people might think, this natural fabric isn't just suited for the coldest days. It actually works well when it's hot, too, due to its natural temperature-regulating properties. Besides, wool doesn't feel heavy or itchy, it's very stretchy and it stays in place without bunching up in the toe or heel area of your foot.
Not every kind of wool is born equal though, lower-quality wool might get itchy or lack all the benefits I've just described. The best quality wool is the Merino Wool — that comes from a particular breed of sheep from New Zealand, the Merino — that's known for being thinner and softer than regular wool.
Synthetic Fabrics
Socks made from synthetic fabrics (especially those mixed with other fibers) with modern moisture wicking technology are a great option — they're very effective at keeping your feet comfortable and dry. Unsurprisingly, most high quality soccer socks are made from these artificial materials.
Polyester is a good sock material, for example: it's durable, easily cleanable, dries quickly and it's more breathable than other human-made fabrics like nylon. Polyester blended with other fabrics gets an even higher score. That's why many brands, like Nike, use such polyester blends for their athletic and soccer socks and market them as being moisture wicking.
Other types of synthetic fibers used to make soccer socks include nylon (durable, strong and quick to dry), spandex — also called lycra or elastane — (high breathability and moisture-wicking abilities) and olefin (quick to wick moisture away and keep your feet dry).
These modern synthetic fibers also come with antibacterial capabilities which is paramount to keep your feet healthy.
What Are the Different Types of Socks? [Types]
Different types of socks have distinct kinds of heights and cuts. What makes a soccer player wear one or the other type of sock is basically personal preference or style.
The most typical types of soccer socks are:
Over-the-calf or Knee-high
This is the most traditional type of soccer socks. Knee-high or over-the-calf socks provide full support and protection.
These socks cover the entirety of the calf and a player's shin guards going up as high as the knee. Being so long, they're generally rolled up beneath the knee. Some players, though, use them to cover their knees for extra protection or personal style.
Trouser
This type of soccer socks are cut a few inches beneath the knee.
Despite not being as long as the knee-high type of socks, trouser socks also cover the entire calf and help keep the shin guards in place. Some footballers / soccer players prefer these over the previous type of socks.
Mid-calf or Crew cut
Mid-calf or crew cut socks rise to the middle of the calf, about halfway to the knees, going just pass the shin guard.
You won't get full protection against skinning or scraping when you slide on the pitch (or any other type of playing surface) or suffer a stronger tackle from an opponent, but this cut might offer a higher level of agility as well as feeling lighter and cooler which some players tend to prefer.
Soccer Socks Buying Guide
What Look for in a Soccer Sock & Our Evaluation Criteria
Materials and construction, style, design and technology, brand, value, comfort and durability are all important things to keep in mind in your quest to finding your best soccer socks as well as potential allergies and personal preference.
What follows is a list of what to look for — and, at the same time, the very aspects on which we based our evaluation criteria for the reviewed products.
Materials & Construction
As engineers continually come up with newer technologies to boost soccer gear performance, one thing is for certain: the most important aspect of any athletic sock is its ability to wick moisture away from your skin so that your feet are kept safe from the dangers of damp conditions.
Cotton, like I mentioned before, is bad for a number of reasons. It might seem comfortable at first, but it just can't handle sweat and it doesn't dry quick either. You'll be running, jumping, shooting and all those activities will make your feet sweat, so you'll need something more suited to manage moisture.
Merino wool — this very specific type of wool, not just any kind, mind you –, on the other hand, is super efficient at getting rid of moisture. Not only is it comfortable, it also has antibacterial properties and it doesn't hold onto stinky odors, making it easier to take care of.
What's best about this natural fabric is that, unlike many would think (me included before looking into it), works great for any kind of weather, keeping your feet cool when it's hot and warm when it's cold. No wonder then that merino wool is being widely used for making sports socks.
For soccer, you should go with synthetic fiber soccer socks. This kind of material not only excels at keeping moisture away, but it also dries way faster than the other options — merino wool being the only exception here.
Other than the materials used themselves, it's also important to understand how a sock was actually constructed.
That said, the more seams a sock has the higher the chance for friction between the sock and your foot. More than annoying and uncomfortable which can make you lose focus, it might cause blisters to form.
So, choose a sock with no seams or close to none.
If you want to go even further, you could opt for grip socks (also known as non-slip, anti-skid or treaded socks). These socks come with a tread pattern or some pads on the sole; by maintaining your foot in the same position inside your cleat they help improve traction.
There's also the option to pick foot-specific socks. Especially right-foot and left-foot designed socks which will provide a much more efficient cushioning and support for the foot they will be worn on.
Comfort
Comfort varies from person to person – what's comfortable to you might not feel comfortable to someone else – and it depends on things such as:
Your favorite type of material: synthetic or natural fibers.
Your feet's reaction to a particular sock material. Is it too itchy? Does your skin gets irritated?
The way the sock is put together and whether it fits perfectly. Are there too many seams? Does it cause blisters to form?
Your preference regarding sock technology; like footbed cushioning (those pads placed in the sole area of the sock which are great for shock absorption) and compression (which provides stability and supportive fit around your foot eliminating tightening or discomfort).
How did we gauge comfort? We've gathered information on what customers said about the items they tried and bought; we've looked at their complaints and praises.
How will you know what's best for you? You'll have to give a try first. There's always the possibility of returning a product that doesn't feel okay against your skin and ask for a refund, even online.
Just make sure you choose something that feels comfortable and that you enjoy wearing.
Breathability
Wicking moisture away is, if not the most important, one of the most important jobs a sock needs to do. If it fails to do it or does it poorly, especially when it comes to sports socks, then it's not even an option.
Without that ability and with all the sweat our feet produce during a training session or a match, all the dangers of damp conditions like blister- and hotspot-forming will be that much higher.
The materials used to make a sock is what determines its moisture management capability, how breathable it is and how fast it is able to dry. Most synthetic fibers are not only excellent at all of that, but they also keep your feet comfortable and are odor-resistant.
Some soccer sock brands even feature their own moisture management and fast- or instant- drying technology; every brand calls it a different name, so you just need to check the label.
Avoid cotton as it is bad at handling sweat and it doesn't dry quick either. Instead, pick a breathable, moisture wicking sock made of quick-drying materials like synthetic fabrics or Merino wool.
Length
The right or ideal length of a soccer sock is also something to bear in mind.
If you are going to be wearing shin guards, you'll need a pair of socks that go entirely over them so they can be kept firmly against your legs. That usually means that you'll need over-the-calf or knee-high socks.
But, as with everything, personal preference also plays an important role in determining your ideal length of socks.
One thing you should do is to check how long is the distance from your ankle to your knee and try different lengths of socks to make sure you pick a pair with a good fit and that you like how high they go.
Also, do know that longer soccer socks (the over-the-calf or knee-high ones) stretch a lot in order to offer a nice tight fit. This allows them to help prevent blisters or any other discomfort when you have soccer cleats on.
This type of socks will come up to your knee or above, but you can always roll, fold or tuck them to whichever height you like best on your leg.
Style
Not always will you be allowed to choose your own set of colors or design patterns for your socks (as it depends on what your coach lets you wear, competition regulations and matching your sock colors with the rest of your soccer kit, etc).
If you are, though, then soccer socks are the ideal piece of gear to show off your style and creativity and add that extra little bit of magic to the way you move on the playing ground as there is a lot of variety in terms of colors and designs available on the market.
Value
Since there are plenty of different types of materials, construction designs and technologies used in the making of soccer socks, it should come as no surprise that prices will vary a lot.
At the start of the spectrum, you'll find items that sell from 10 to $20 on average. They might work depending on the use you intend to give them, but they hardly ever be as good as sports socks can be.
And then it starts to get pricier, from around 30 to $50 or more. If you ask me, I think that's only natural. If one wants quality, one needs to pay for it.
High quality soccer socks are made with top materials that'll stand the test of time and technical fabrics that'll give you all the comfort you need; they come with the latest technologies that will offer you the right support and protection so you can focus on what matters most: your game.
Tips for Buying Soccer Socks Online
If you're buying your socks online (or any other piece of soccer gear, for that matter), you should always take a few things into consideration.
As far as sock sizing is concerned, it might be a bit complicated to get your size right, if you're not yet sure what it is.
First off, sock sizes vary from brand to brand. Secondly, sock sizes are different from shoe sizes — the numbers you see on men's / women's socks represent the foot length in inches, rather than the actual shoe size. And, when it comes to children's socks, things tend to get even tougher.
Here's what you need to do:
Always check the sizing charts that are usually displayed on the product page of the soccer sock you want to buy to understand what your sock size is. Some charts will feature a handy sock to shoe size comparison.
To add an extra layer of assurability, read some of the reviews other buyers have left to learn what they said about sizing and how well the socks have fit.
Regarding shopping safety, you should only buy from legitimate and reputable ecommerce websites with a good and clear return policy. Especially when we're talking about clothes and other types of gear you can wear, it is always wise to be able to return (and get your money back or a replacement) the items that aren't of the proper size, don't fit right or come damaged.
Best Soccer Socks for Blisters
How to Avoid Blisters When Playing Soccer
Blisters are a common and annoying issue for active people doing any kind of sport that involves running. They usually form when the outside of your skin has been damaged by friction or heat (among other causes).
This means that you need to be careful when choosing your soccer socks and your soccer cleats.
Wearing both socks and cleats that fit exactly right will certainly help avoid any unnecessary, potential blister-forming friction between your feet and your socks and between your feet and your cleats. Likewise, grip socks are great to prevent your foot from slipping inside of your cleat too much.
One thing to keep in mind is that soccer socks — unlike generic ones — are especially engineered to accommodate unique characteristics and technologies that go into particular areas of the sock where very specific parts of your foot need to be placed on perfectly. If they're not the right size, everything will fall out of place and issues like blisters might occur.
Too long, too short or socks that have gotten too loose after being stretched more than they should are to be avoided. Just get the right size and it'll solve most of the blister-forming issues. (Remember: if they're not the right fit, send them back even if you've bought them online.)
Together with the above advice, other ways to avoid getting blisters include getting blister bandages (or tape) and putting them on spots where blisters usually form.
And, of course, if the choice of soccer socks is not up to you, there's always this smart anti-blister hack you can use.
Get a pair of socks that you like and either cut their top part or choose a length that doesn't go as high. Then, cut the bottom part of your team's socks and wear their top part over your favorite ones in a way that hides them underneath. (If you look closely, you'll see some professional soccer players doing exactly this.)
How to Take Care of Your Soccer Socks
On top of all the grime, mud, grass and other disgusting things that get glued to our socks and other pieces of our soccer gear after a training session or a match, there's another great source of dirt: our own body.
We, humans, are constantly shedding skin cells, producing skin oil and secreting sweat into our clothes — over 500 million skin cells and one liter of sweat every day, sporting activities excluded!
On their own, those things don't actually smell bad. But, when the bacteria we all have on our skin starts feeding off of that, that's when the stinky smell happens. In fact, that bad smell is merely a byproduct of the bacteria feasting on your skin cells, skin oil and sweat.
That alone is a strong reason to wash your soccer kit regularly, especially your soccer socks! The dark, warm and moist environment inside your cleats is perfect for bacteria to grow. Smelly and dirty socks are a source of bacteria which can cause infections and other serious foot problems.
So the word is: wash your soccer socks regularly, preferably after every time you play or train, don't wait until they start to stink. Keep your socks fresh and clean and your feet happy! And, of course, be sure to get more than just a pair of them so you can use them interchangeably.
That said, how should you wash your soccer socks?
The wisest tip is to always follow your socks manufacturer's washing and drying instructions to avoid having them shrink and prevent their colors from fading (bleach is not a good idea as you can imagine…).
Check to see if they're machine-washable, what temperature and speed cycle should your washing machine be set to, how should you dry them and you should be okay.
Get Those Soccer Socks that'll Make You Shine!
As far as this particular piece of gear is concerned, you can have the best of both worlds when it comes to style and performance.
The best soccer socks are those that excel at moisture management and quick-drying, those that keep your feet healthy and free annoying issues, those that are comfortable and make you look awesome on the playing ground.
They might cost you a little bit more than you were expecting, but they'll also be more durable than the generic ones and they come with advanced features that will help focus on what matters most: the quality of your game!